Reading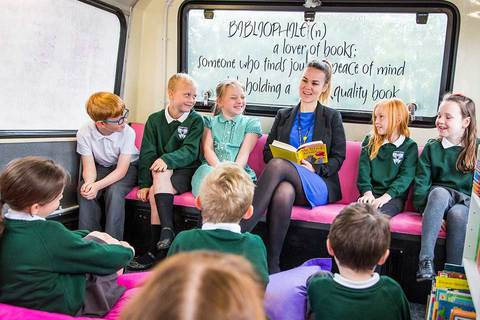 KS1
In Year 1 and 2 we follow the Read Write Inc scheme which provides a structured and systematic approach to teaching phonics, designed to create fluent readers and confident speakers and the programme includes a variety of fiction and non-fiction books to develop the children's reading age.
In our daily phonics sessions children are grouped according to their reading progress and re-assessed every half term. They learn sounds and practise reading every day at exactly the right level. The programme allows engaging partner work, role-play and drama so every child participates in the whole lesson.
From the Spring term, in Year 2, the children move onto Whole Class Reading. This ensures they are exposed to a wider variety of texts such as poetry and children's classic novels and begin to focus more on KS1 National Curriculum objectives such as the author's choice of language, retrieval, inference, summary and prediction.
In addition, we read to the children daily to nurture their love of reading.

KS2
At Penshurst Primary, we pledge to read to the children for 10 minutes everyday (separate to our reading lessons). This is to ensure children have the opportunity to study a text in its entirety from start to finish and build the skill of following a text through, while fostering a love of reading.
In our reading lessons, we use the philosophy of Whole Class Reading. For two days we will study the class novel and focus on key skills: the author's choice of language, prediction and summary. In order to guarantee that the children are exposed to a range of texts, for the other three days we study texts which are linked through a theme; these texts could be anything ranging from picture books, non-fiction and poetry. Within these lessons, we teach and model how to answer questions regarding inference and retrieval.
Every child at Penshurst has access to 'Reading Eggs' and 'Reading Eggspress' which are the whole school IT reading programmes. Children access these schemes via the internet and have their own personal login and password. These programmes are interactive worlds full of fun games and hundreds of online books to help your child progress.
Ways you can support your children at home
Play: 'What do we have in here?' Put some toys or objects in a bag and pull one out at a time. Emphasise the first sound of the name of the toy or object by repeating it, for example, 'c c c c – car', 'b b b b – box', 'ch ch ch ch – chip'.
Say: 'A tall tin of tomatoes!' 'Tommy, the ticklish teddy!' 'A lovely little lemon!' This is called alliteration. Use names, for example, 'Gurpreet gets the giggles', 'Milo makes music', 'Naheema's nose'.
Teach them 'Peter Piper picked a peck of pickled peppers'

What?
When?
Who?
Why?
Where?

Play games with them on the 'Reading Eggs' programme - it's lots of fun!