WEEK 32 - Friday 27 May 2022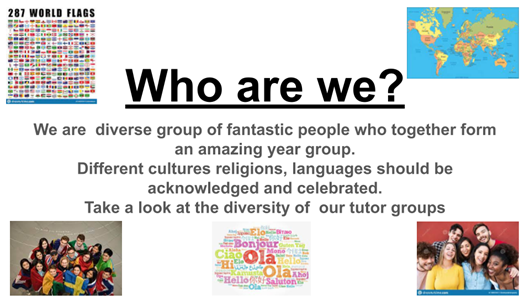 This week our students entered into the assembly to the song 'Getting to know you' and those of us that are old enough to remember this song will know it comes from the musical 'King and I'.
One of the lines from this song says
'As a teacher I've been learning,
forgive me if I boast,
but I've now become an expert,
on the subject I like most,
'Getting to know you'
I'm definitely not an expert on all of year 8 but I'm trying to get to know each one of the students. As you can imagine it's a big task trying to get to know all 250 students. To help us do this, Miss Staveley and I meet and greet every morning and one of us is always out at break and lunch.
Each tutor group put together a slide for our assembly this week to show how diverse their tutor group is; from different languages, cultures, religions, foods that they like, their pets or countries they have visited. As we stay together over the next three years no doubt there will be changes to these groups but for most of us, myself included, have begun a journey where we are getting to know a little about each other as time passes by.
We hope you enjoy the half term and the Jubilee celebrations and look forward to seeing our students back for the final half term of year 8.
Regards
Mrs Taylor
Head of Year 8
Miss Staveley
Assistant Head of Year 8